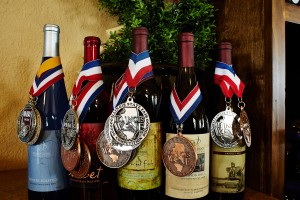 Great wine can only be made from great grapes.  Upon being harvested from our four acres of vineyards, the grapes immediately enter the processing stage of wine-production.
Time is of the essence; the less time we take to extract the juice and get it into tanks, the less time there is for spoilage by air or bacteria.
Generally, we harvest the grapes in the morning and process them that afternoon, meaning they go from vine to tank in less than twelve hours.
For red wines, we crush and destem the grape clusters, then allow the juice to ferment on the grapeskins to extract color, flavor, and body.  After fermenting for a few days, the must is pressed and the wine is moved into tanks for completion.
For white wines, the grape clusters are crushed, destemmed, and pressed off the skins all in the same day, and the juice is moved into tanks immediately to ferment.
Crafting award-winning wine is part art, and part science.  Using the grape juice as our starting point, we carefully monitor fermentation temperatures, add specific yeast strains to impart desired characteristics, sweeten some wines to desired levels, age certain wines on oak or oak barrels, filter the wine for clarity, and continuously protect the wines from air or bacterial spoilage. On average, a white wine can be produced in a few months, whereas dry red wines such as the Chambourcin, Norton, and Capella may take up to two years to age properly.
Our dedication and commitment to producing fine wines means that we sometimes take longer to produce a wine, and occasionally sell out of a specific wine as we wait for the next vintage to mature properly.  However, we believe these occasional inconveniences are worth it in order to produce the award-winning wines worthy of a Willow Ridge Vineyards & Winery label.  Good things come to those who wait; after tasting our wines we believe you will agree.
Hours
| | |
| --- | --- |
| Monday | Closed |
| Tuesday | Closed |
| Wednesday | 12:00 PM - 6:00 PM |
| Thursday | 12:00 PM - 6:00 PM |
| Friday | 12:00 PM - 8:00 PM |
| Saturday | 12:00 PM - 8:00 PM |
| Sunday | 1:00 PM - 6:00 PM |