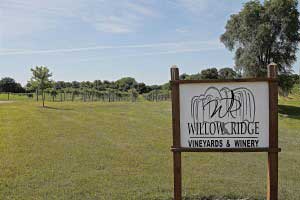 Part of the secret behind the creation of our award-winning wines is the care and attention we give to our four acres of on-site vineyards.
Over the past 10 years, we have planted, maintained, and harvested three distinct vineyards, totaling about four acres, and today the vineyards provide about two-thirds of the grapes we need each year to produce our wines.
We put a great deal of effort into choosing exactly the right varieties to plant in our vineyards because of the many factors that impact grape quality.
We carefully consider what type of wine each grape is best suited to produce, how the vines handle cold winter temps, summer heat, and rainfall, what type of trellis system that vine needs, disease and pest tolerance, and the vine maintenance routine required to produce great wine from those grapes.
After examining these factors and more, we selected these six grape varieties for our vineyards: Chambourcin, Marechal Foch, Vignoles, Niagara, Frontenac Gris, and Vidal Blanc.
Producing great grapes for winemaking is a year-round effort.  It takes a vineyard three years before it produces any grapes, and five years before they mature to reach full production.
Proper maintenance of grape vines includes hand pruning of dormant vines in late winter, fertilization in the spring, weed control all summer, canopy maintenance all summer to maintain the proper amount of sun/shade on the grapes, disease and pest management all summer, and netting in late summer to prevent bird damage.
If all of these tasks are done properly all year, and if the weather cooperates, the vines will produce nice yields of intensely-flavored grapes that must be hand harvested from August through September or October.
Actual harvest will vary from year to year, as we monitor daily the grapes' ripeness and flavor, in order to harvest at peak quality.
Hours
| | |
| --- | --- |
| Monday | Closed |
| Tuesday | Closed |
| Wednesday | 12:00 PM - 6:00 PM |
| Thursday | 12:00 PM - 6:00 PM |
| Friday | 12:00 PM - 8:00 PM |
| Saturday | 12:00 PM - 8:00 PM |
| Sunday | 1:00 PM - 6:00 PM |