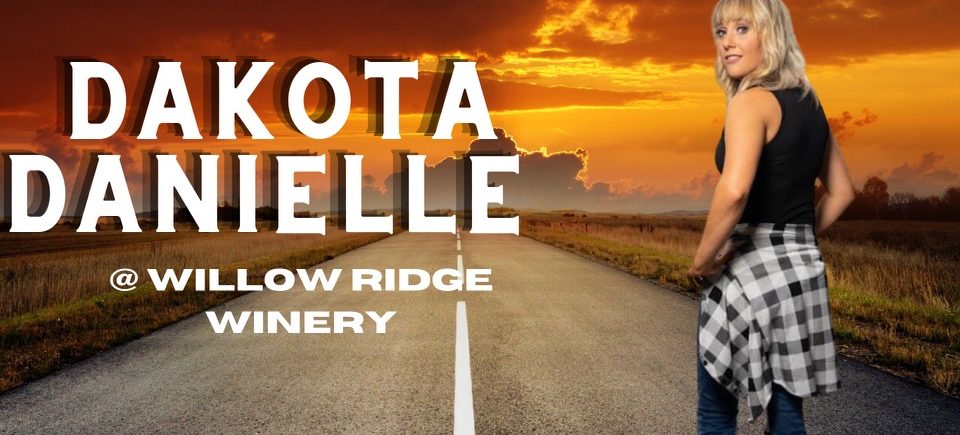 Dakota Danielle – June 19
Smokin BBQ Stewy Style will provide food all afternoon.
THERE IS NOTHING TALLER THAN A SMALL TOWN GIRL WHO COMES TO CHANGE THE WORLD. DAKOTA DANIELLE IS HERE TO DO JUST THAT.
SHE IS A SMALL TOWN SENSATION WHO BROKE INTO THE COUNTRY SCENE WITH THE RELEASE OF HER DEBUT SINGLE "ONE CHURCH", WHICH QUICKLY AND INDEPENDENTLY GARNERED OVER 65K STREAMS ON SPOTIFY. AFTER THE VIDEO PREMIERED ON THE COUNTRY NETWORK, DAKOTA FOLLOWED WITH THE RELEASE OF HER SOPHOMORE SINGLE "FOREVER." THE HIGHLY RELATABLE, SLIGHTLY NOSTALGIC SONGS ARE SELF-PENNED AND PRODUCED BY MOOKIE & EVAN WITH MICHAEL J. CLOUSE III (JEFF BUCKLEY, THE ROLLING STONES' NICKY HOPKINS, THIN LIZZY'S MARCO MENDOZA).
FOLLOWING THE LOSS OF HER MOTHER LAST YEAR, THE 27-YEAR-OLD DOVE INTO WRITING TO BEGIN HER HEALING PROCESS. THIS LED TO HER DEBUT EP MY MOTHER'S DAUGHTER AND HER MOST RECENT SINGLE "ONE DAY CLOSER TO YOU." DAKOTA FILLED HER MOTHER'S ROLE AS CARETAKER TO HER FATHER, WHO WAS BATTLING CANCER. WHEN SHE LOST HER FATHER IN JUNE, HER LATEST TRACK TOOK ON A PROFOUND MEANING. IT EVOKES A VISCERAL RESPONSE FOR ANYONE WHO HAS EXPERIENCED LOSS. THE SELF-PENNED PROJECTS ARE A REFLECTION OF HER PAST AND TOUCH ON THE CHANGES BROUGHT ABOUT BY THESE CHALLENGING LIFE EVENTS.
THE TEUTOPOLIS, ILLINOIS NATIVE IS GRINDING TO MAKE A NAME FOR HERSELF AND HER UNPARALLELED WORK ETHIC IS EVIDENT WITH HER REGULAR APPEARANCES IN MUSIC CITY AND SURROUNDING AREAS. HOPING TO INSPIRE CHILDREN TO FOLLOW THEIR DREAMS, DAKOTA FREQUENTS SCHOOLS TO DELIVER MOTIVATIONAL SPEECHES. WITH A GUITAR IN ONE HAND AND A PEN IN THE OTHER, HER GOAL IS TO INSPIRE, SPREAD KINDNESS AND TELL HER STORY THROUGH HER DEEPLY PERSONAL, YET CHARISMATIC MUSIC.
"I LIVE BY THE IDEA THAT WHEN WORDS FALL APART, MUSIC SPEAKS."
Hours
| | |
| --- | --- |
| Monday | Closed |
| Tuesday | Closed |
| Wednesday | 12:00 PM - 6:00 PM |
| Thursday | 12:00 PM - 6:00 PM |
| Friday | 12:00 PM - 8:00 PM |
| Saturday | 12:00 PM - 8:00 PM |
| Sunday | 1:00 PM - 6:00 PM |