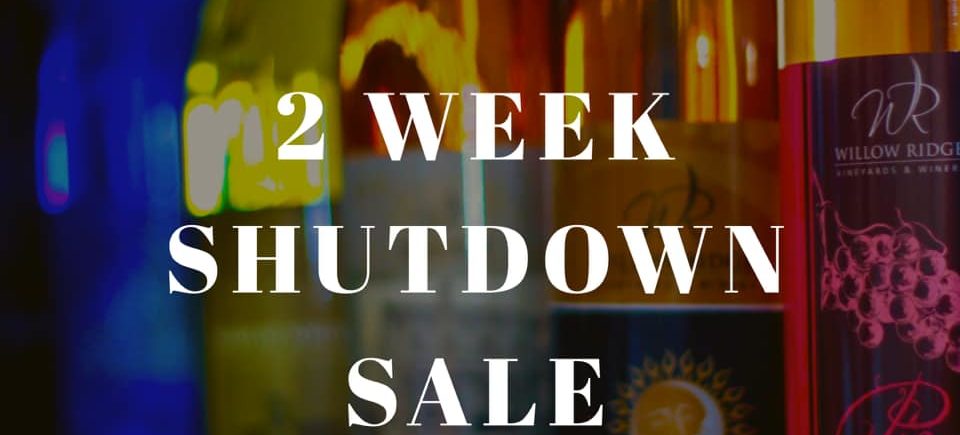 ALL EVENTS CANCELLED AT THIS TIME
It comes with a heavy heart to announce that the coronavirus has caught up and directly affected Willow Ridge Winery. As of March 16th, at 9pm, Willow Ridge Winery will no long be able to open to the public. Being a small business, when any form of natural disaster or unforeseen circumstances arises, it can be catastrophic to the operation of small business.
As we will miss our customers so much during this difficult time we do have one silver lining in this tragic event.
Willow Ridge Winery will be able to sell our wine for you to take home and enjoy. This 14 day freeze to operation is in the winery but we are still allowed to sell wine to go.
We will be open for wine pick ups Wednesday through Sunday 1-5 pm.
If there was every a time to support small business, now is that time. Many small businesses in your area will be affected by this closure to operation and will be scrambling to find way to keep operations going! Please help support them!
Willow Ridge Winery will be offering a special to all of our customer from now until March 30th. Buy 5 bottles of wine and a get 6th bottle for 1 cent! This special will apply to pink catawba, marechal foch, solstice, equinox, traminette, sunset, and chardonnay or we have 10% off a case of some of our other wines. We really hope that by running this special we can continue to make sales as we prepare for spring events!
This upcoming Spring is going to be action packed and fun for everyone. Not only do we have a huge line up of Performers; we also have the return of wine slushies, and the debut of a new semi-sweet wine! Stay tuned for more details!
Thank you so much for the continued support with much love,
Your Willow Ridge Family
‭+1 (217) 738-2323‬
Hours
| | |
| --- | --- |
| Monday | Closed |
| Tuesday | Closed |
| Wednesday | 12:00 PM - 8:00 PM |
| Thursday | 12:00 PM - 8:00 PM |
| Friday | 12:00 PM - 8:00 PM |
| Saturday | 12:00 PM - 8:00 PM |
| Sunday | 1:00 PM - 8:00 PM |